페이지 정보
TURBO PUMP (HS-AAE-TPH80)

조회

443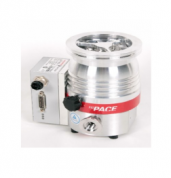 옵션표
Part Number

201-130-380

Item Name

Turbo Molecular Pump HiPace 80

Description

*Turbo Pump는 질량분석계의 동작 조건인 <2.0e-5 mbar 고 진공압을 형성한다.
*N2 펌핑 속도가 최대 67 l/s인 컴팩트한 고성능 터보 펌프.
*컴팩트한 설계로 공간 요구 최소화.
*높은 펌핑 속도 및 모든 가스에 대한 최고의 압축.
*통합형 드라이브 전자 장치, 보호 등급 IP54로 산업용으로 적합함.
*Semi S2 인증 및 UL/CSA 인증.
*작동 데이터의 모니터링으로 작동상 신뢰성 최대화.

본문
- The Turbo pump operates in the 'High Vacuum' range giving our required pressure of <2.0e-5 mbar.
-.Compact design for minimum footprint.
-.High pumping speed and maximum compression for all gases.
-.Integrated drive electronics, suitable for industrial environments
-. Protection class IP54.
-.Semi S2 and UL/CSA certification.
-.Maximum reliability through monitoring of operating data.