페이지 정보
PENNING GAUGE (HS-AAC-PG)

조회

607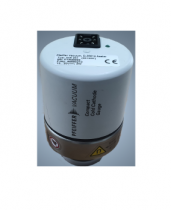 옵션표
Part Number

202-300-070


Item Name

Pfeiffer IKR 251 Cold Cathode Vacuum Gauge Transmitter, Metal Sealed, KF25

Description

Prima Pro의 Ion Source Chamber내의 진공압을 측정 하는 장치.
측정 장치는 'Penning Gauge'라고 불리는 '냉 음극 방전' 장치이다.
이 장치는 e-3 ~ e-9 mbar 범위에서 측정 할 수 있다.
본문
These Pfeiffer IKR 251 Cold Cathode Gauges provide measurable vacuum pressure in the range 7.5x10-3 to 1.5x10-9 Torr.
The vacuum pressure can be displayed via a DCU or TCP 350 turbopump controller or via the TPG 261, 262, or 256 Active Gauge controllers.
They have a KF25 flange. They are metal sealed and are qualified for a high 150°C bakeout temperature.
This pricing is for the Pfeiffer IKR 251 Gauge only.