페이지 정보
ROTARY PUMP OIL (HS-AAC-RO4)

조회

634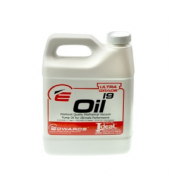 옵션표
Part Number

HS-AAC-RO4

Item Name

OIL ULTRA GRADE 19 EDWARDS ROTARY PUMP (4 Liter)

Description

- 대기압 상태에서 1.0e-2 mbar 정도의 진공을 형성하는 Rotary Vane Pump에 주입하는 윤활 기름.
- Application 에 따라 오일 교환주기는 달라질 수 있다.
- 오일 변색에따라 달라 질 수 있으나 보통 1년에 한번씩 교체한다.

본문
- Lubrication oil is poisonous. Appropriate PPE should be worn when replenishing the oil in the rotary pumps.
- The rotary pumps become very hot during operation. Allow the pumps to cool before attempting to drain the lubricating oil.
- The oil level in the rotary pump should be checked in accordance with the maintenance schedule and replenished if necessary.