페이지 정보
FILAMENT (HS-AAC-FTH)

조회

798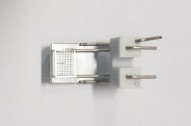 본문
 - The gas sample passes through an electron impact ion source, which operates under vacuum.
Positive ions form when electrons, accelerated from a thermionic filament, bombard the sample molecules and cause the loss of one or more electrons.
The process of ionization is often sufficiently energetic to rupture chemical bonds, so that fragment ions are formed as well as molecular ions. 
[이 게시물은 관리자님에 의해 2022-09-23 16:15:18 Thermo Fisher에서 복사 됨]